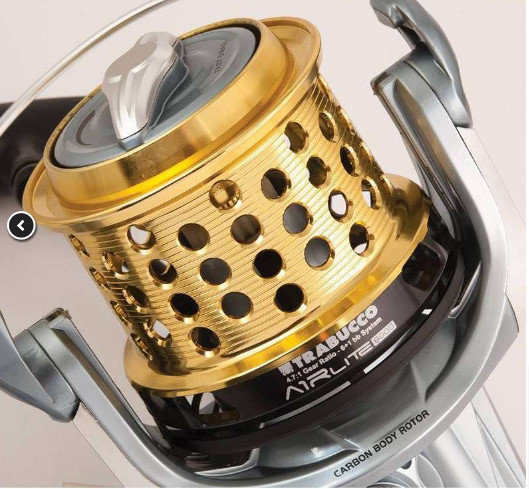 AIRLITE XTR 8000 lightweight surf casting reel with 2 spare spools
SKU 00570
Product Details
Fantastic reel body and rotor, pure carbon CX, stainless steel shaft larger section. A concentration of technology and lightness, designed to make the most of all the fishing conditions.
• Body and rotor in pure carbon CX
• Stainless steel shaft larger section
• Coil Airlite aluminium, lightened by special holes
Dual voice coil • additional aluminium
• Clutch front Smart Drag, quick-lock
• Bow to the traditional roll wire guide Anti-Twist Titanium
• Sealed ball bearings Long Life stainless steel
• Backstop infinity
• Imbobinamento spire cross (Worm Shaft)
• Slow vertical oscillation of the coil
• Crank machined-aluminum with knob ergonomic
It's really very light as its name suggests, this beautiful reel with
oversized and finely perforated aluminium spool, which in the retrieve
goes up and down so slowly to store the line with stunning precision.
The secret of such lightness lies in the structure of the body and the
rotor, which are produced from high modulus carbon, just like the high school
rods, to also provide strength and fine sensitivity.
This material, amongst the most rigid in the world, has allowed to create a non-deform able body that guarantees the smooth gear operation, even under heavy load. The advantages of the enormous diameter of the spool range from the retrieve of 110 centimetres of line per crank to the creation of large, sweet coils for longer casting; from the immediate start of the drag system, due to the longer lever operated by the line, up to the superior control during the cast, since the spool's lip is only 60 millimetres far from the reel's foot.
All this would be enough pedigree to qualify a super surfcasting reel, but there is much more to
discover.
There are stainless steel mechanisms, corrosion-proof sealed ball bearings and a
fantastic instant drag, which opens and closes completely with just one knob's turn (Smart
Drag).
Finally, there are two extra spools, inside the box, both standard aluminium type
without holes, that surf experts appreciate in normal fishing circumstances, but especially in
competitions, where a spool of fresh line or one with braid can solve a complicated match
| | | | | | | |
| --- | --- | --- | --- | --- | --- | --- |
| CODE | MODEL | WEIGHT | GEAR RATIO | CAPACITY | spools EXTRA | B. B. |
| 035-16-800 | 8000 | 550 | 4.7:1 (110 CM) | 0,35/330 MT. | 2 | 6+1 |
Save this product for later