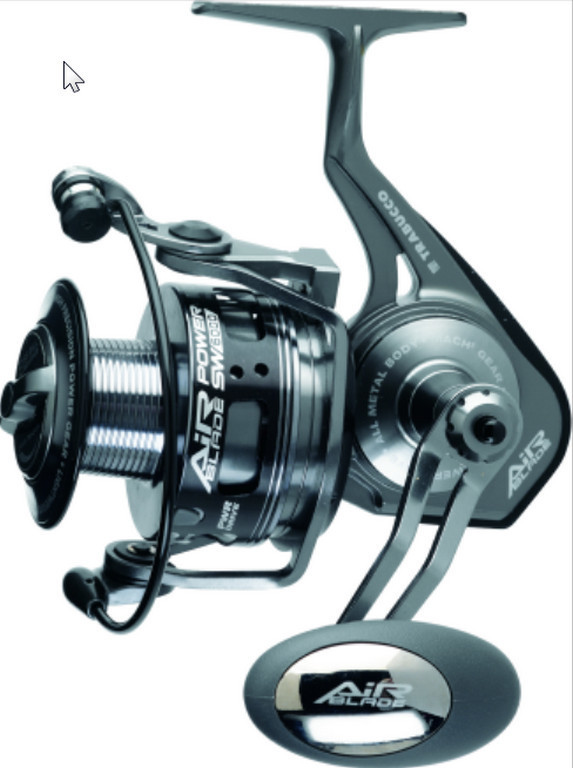 Airblade SW Power FD 6000 5000 and 4500
SKU 00297
Product Details
A new type of surf casting reel for rough and tough fishing.
The team at Trabucco is increasingly engaged in the search for new technological solutions
that can bring something extra to the reels, which can increase the quality
of the experience of fishing for all fishermen.
The new AirBlade Power SW is yet another step forward carried on with pride and that allows to
extend the techniques most challenging sea fishing experiences obtained in the previous two
years with the project Airblade.
The entire reel is made of aluminum and sealed by a rubber seal which prevents
any infiltration of water.
To maximize this type of isolation of the gears, the body does not carry a single screw, which also benefits the general robustness.
All bearings are stainless steel Long Life, practically ever lasting
The crank is provided with an fighting handle to increase the already remarkable power
of recovery.
Available in three models, the Airblade Power SW is about to become the most
interesting news of 2015 for spinning at sea and even forr surfcasting , especially when facing
predators particularly as powerful as the garden shed !
3 sizes available
4500 5000 and 6000
FEATURES:
• Aluminium body
• Coil superlight machined aluminum
• Completely sealed by a gasket
• Binaural tubular Power Bail with roll Anti Twist
• Clutch micro-adjustable disc oversized
• Stainless steel bearings Long Life
• Anti-return infinity
• Crank Power Fight machined aluminum • Max Drag 7 Kg
• Ratio 4.9: 1 (89 cm)
Save this product for later