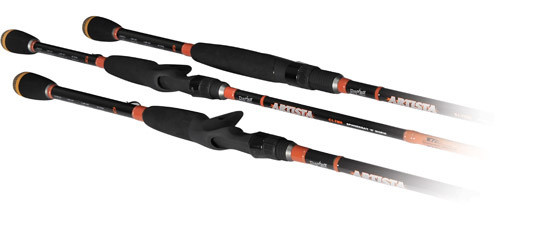 Artista one piece spinning and bait casting lure rods
SKU 00270
Product Details
􀀔􀀕􀀗􀀐􀀛􀀙􀀐􀀘􀀓􀀓 􀀃Eleven one piece models (4 spinning and 7 casting) with Fast or Medium
Fast actions to get the best performance from the extraordinary
carbon fibres we used to build them: the CX-1 High Modulus
Carbon.
Every model is sacred to a specific technique, in some case
two, and every model has been designed and crafted exactly for that
technique.
This time consuming job has been done by the whole
Rapture Team.
We are also proud of the colourful cosmetic that allows
to identify one of the most beautiful Rapture rods wherever in
the world.
The SiC guides allow the use of braided lines.
The handle is split and it is made on high density EVA for the best comfort.
The guide assembly has been carefully selected, both in sizing,
spacing and frame shape, to suit perfectly the action and the use
of each rod, thus to maximize performance and accuracy.
The guides are genuine SiC and totally "Braided Proof".
The top tip guide is designed to preserve your mainline from tangles
The finesse model is the one for Light fishing
shaky head senko for medium spinning
football head big worm for pike and Bass soft plastics
Senko/toads bait caster for top water plugs and heavy plastics
drop shot split shot for heavy weight lure fishing live bait and deadbait
Save this product for later