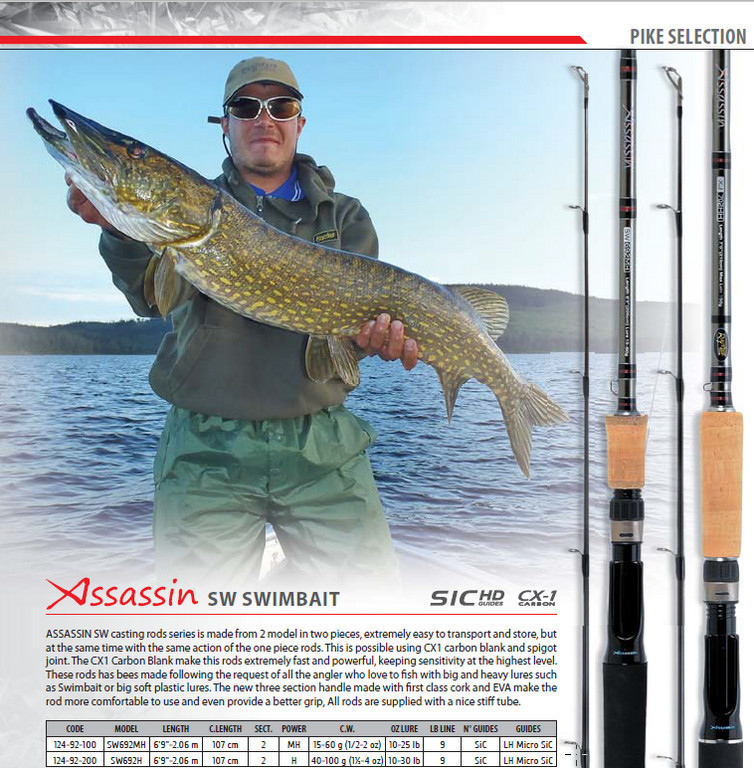 Assassin Swim Bait and Big Jerk Pike rods casts to 6 oz.
SKU 00381
Product Details
ASSASSIN SW casting rods series is made from 2 model in two pieces, extremely easy to transport and store, but
at the same time with the same action of the one piece rods. This is possible using CX1 carbon blank and spigot
joint. The CX1 Carbon Blank make this rods extremely fast and powerful, keeping sensitivity at the highest level.
These rods has bees made following the request of all the angler who love to fish with big and heavy lures such
as Swimbait or big soft plastic lures. The new three section handle made with first class cork and EVA make the
rod more comfortable to use and even provide a better grip, All rods are supplied with a nice stiff tube.
ASSASSIN XJ are extremely versatile casting rods. Specially designed for pike
fishing with large baits such as jerkbait, swimbait and big soft plastic lures, they
can suit all type of predator fishing where heavy lures are required.
The handle provides excellent comfort and grip even in extreme situations, delivering the best
performance, and is designed to cast easily even the biggest lures.
All the rods are supplied with stiff tube
Save this product for later