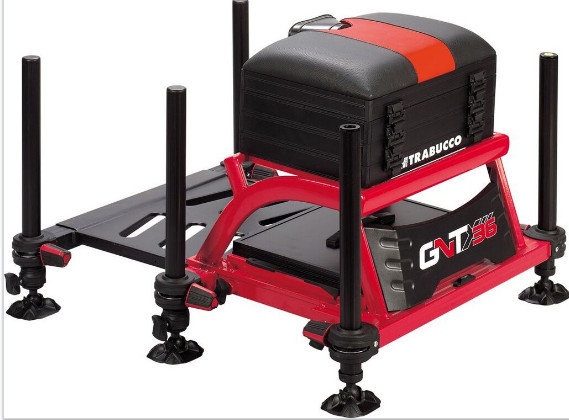 GNT X36 StationPlus seat box as featured in Pole fishing magazine March 2018.
SKU 00711
Product Details
TRABUCCO gnt X 36 SEAT BOX station Plus
please check colour availability at time of ordering
Currently Orange in stock
Product ordered ex Italy delivery 4 weeks
there are other draws and module options also available to make up a
specific specification tailored to your needs please see picture
A shock to the seatbox world comes once again from Trabucco brand, which breaks into the match fishing scene with an extraordinary concept of fishing station: GNT X36, whose name was inspired by the diameter of the legs to communicate with some effectiveness the new, concrete feeling of stability that the product is able to guarantee.
The idea, the materials used, the innovative technical solutions and the extreme adaptability to the personal needs of the user make it a cutting-edge seatbox, as already witnessed by the attentions reserved to it from the angling public during the first exhibitions.
The everybody's sympathy arose immediately after the announcement that the aluminum frame is available in three different colors: white, red, black, offering fans the embarrassment and pleasure of choice, because the three combinations are all quite attractive.
Then it was the turn of the technical details: above all the innovative leg locking system, which is operated by knobs which are active along a 180 degree arc.
So you can reduce the volume of the seatbox during transport, but also on the banks, because the knobs don't protrude from the frame profile.
Finally, the extreme flexibility of the Connect X36 concept, which provides the possibility of applying the wide range of accessories to any existing seatbox, indifferently with square or round section legs.
Innovative aluminium tubular frame, available in 3 colours: white, red, black
Six legs Ø 36 mm, four of which are telescopic: the two on back side feature a level and a bush for quick umbrella fitting; the other four carry a screw bush for the application of any accessory.
Wide, tilting mud feet; beyond the standard models, supplied with the seatbox, special versions are also available with stainless steel feet and grips for steep banks (fitted on optional legs).
Sliding aluminium footplate
Non-marking screw knobs
Gel padded cushion with pole recess, decorated by a colour band which definitely marks its look
Twin system of air bubble levels: one on top of a leg, the other on back side of the frame
Padded, adjustable length shoulder strap
Top accessory drawer 4 cm deep, plus a side drawer 2 cm deep
Removable drawer stack, made of:
upper drawer 4+2 cm deep
Lower draws of choice from £60.00 for 2 front draws
Compatibility with all existing Genius drawers and modules, including the GNT Roto cushion (item nr. 116-05-080).
Optional Accessories:
A wide range of spare accessories are available as optional.
Drawer's partitions
Trolley kit with pneumatic wheels
Pole front bars (standard and wind version)
Side trays, with and without cover
Accessorie's rests (for keepnet, umbrella, bucket, bowl)
Pole kit rests
Feeder & Match Arm
Legs with plastic or stainless steel foot

Innovative aluminium tubular frame, available in 3 colours: white, red, black




• Six legs Ø 36 mm, four of which are telescopic: the two on back side feature a level and a




bush for quick umbrella fitting; the other four carry a screw bush for the application of any




accessory.




• Wide, tilting mud feet; beyond the standard models, supplied with the seatbox, special




versions are also available with stainless steel feet and grips for steep banks (fitted on




optional legs).




• Sliding aluminium footplate




• Non-marking screw knobs




• Gel padded cushion with pole recess, decorated by a colour band which definitely marks




its look




• Twin system of air bubble levels: one on top of a leg, the other on back side of the frame




• Padded, adjustable length shoulder strap




• Top accessory drawer 4 cm deep, plus a side drawer 2 cm deep




• Removable drawer stack, made of:




• upper drawer 4+2 cm deep

intermediate drawer 4 cm deep• lower drawer 2 cm deep• Compatibility with all existing Genius drawers and modules, including the GNT Roto cushion(item nr. 116-05-080).A wide range of spare accessories isavailable as optional.• Seat cushions• Drawers• Drawer's partitions• Trolley kit with pneumatic wheels• Pole front bars (standard and windversion)• Side trays, with and without cover• Accessorie's rests (for keepnet, umbrella,bucket, bowl)• Pole kit rests• Feeder & Match Arm• Legs with plastic or stainless steel foot
for discussion color availability , delivery and spares and extra items at low cost ring 07771548801
Save this product for later