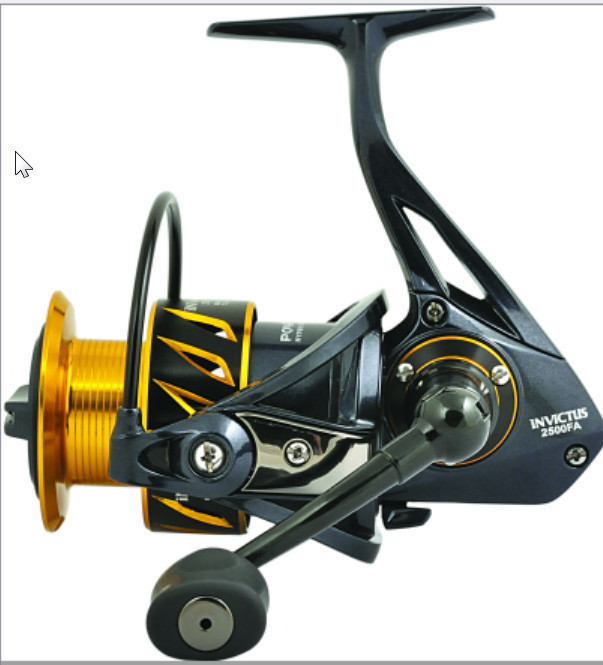 Invictus FA top level reel 3 sizes sale price £99.99 from £150.00
SKU 00299
Product Details
INVICTUS
The Invictus is the latest project of excellence achieved by Team Trabucco and
can boast a number of very interesting innovations.
Constructed with a hybrid aluminum and graphite to maximize the benefits of both materials: the body is made of aluminum and therefore very rigid, to the benefit of improving the functioning of all the gears, while the rotor is made of carbon, much lighter that if it were made of aluminum.
The rotor, in particular, is completed by a headband cable with double thickness, very
sturdy and resistant. The coils are supplied two, both-turned from a
single block of aluminum. One was designed for the monofilament and has a larger capacity,
while the other is specific for braided, having a smaller capacity, and a rubber band
placed at the center of the throat to prevent any slippage.
The edges of both spools are tilted, giving life to the V-Spool Design, which allows the line to escape much more easily, increasing casting distance.
The clutch has carbon discs and steel and is sealed to prevent dirt or salt can penetrate.
Even the crank has been produced on a lathe from a single block of aluminum.
The bearings are 9 + 1, of the type in stainless steel double shielded. With a ratio of 5.2: 1,
Invictus is a great reel not only for fishing in pits or rivers english style especially in sizes 2500 and 4000, but it is also a superb spinning reel and feeder,
.
FEATURES:
• Metal body ultra-rigid
aluminum • Side cover
• Rotor Carbon
• Binaural tubular aluminum
Hub thread guide • Anti-twist
titanium coated
• clutch with multiple discs in carbon
and stainless steel, sealed against the ingress
of water and dust
• Coil primary aluminum,
served by two ball bearings
• Coil additional match in
aluminum (with rubber band)
• Post stainless steel
• Stainless steel bearings with double
shielding
• Crank obtained by turning from
a single block of aluminum
Special metal alloys and carbon at
high module: only the knob of the handle
is produced in a traditional material.
But the materials can not nothing if
not intervene technology to handle them, and in
this case has been made extensive use.
With just two rounds crank, with a
big fish on the other end, to
experience the special strength that we never
suspected was hidden inside
Save this product for later