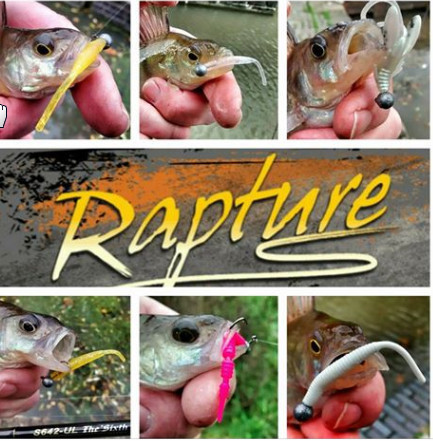 MERABU WORM LRF SOFT PLASTIC LURES 6 variants £2.99 pack for 12
SKU 00100
Product Details
The Ultra light lure fishing method is a technique
that can be practiced anywhere there is a canal . ditch or
salt water, even in the absence of rocks.
It was born in Japan but has become

a real Life Style method in Europe.In rocky or weedy environments, you can catch Perch Zander in the fresh or even the Mebaru, or scorpiofish, the fish that in Japan gave its name to the technique in the sea
. On canal environments you can more likely catch perch or zander

The fishing techniques takes place not only on the bottom, between the crevices
between the boats but also in midwater or even close to the surface. This technique
is successful for its intrinsic ability to capture virtually any fish. And the size is not always that small.
Easy to use either drop shot using SSG shot or with a light 1g jig head
Use Akura 145 BN hooks for drop shot, the thin wire long shank hok with its pin sharp point is a perfect match
AJI WORM
Worm lure for midwater fast retrieve, very soft and sinuous action. Special for
Zander . Perfect on the drop shot for perch
MENUKE
Imitation of a small prey fish that can trigger the predatory instincts of
any fish, even the most peaceful. Use its paddletail on a very small jig head. Available in 30mm and 50mm sizes
KASAGO
Very versatile bait that must be used on the bottom or midwater. The thin and very mobile tail
generates a large number of appealing vibrations
Again a dropshot special
Kasago Shad
A ball in the tail means very little movement is equired.. Static lure fishing !!!
SHIRASU
Small imitation of a shrimp that can literally drive crazy fishes that see
it skipping around the rocks of the bottom. Perfect for small jig heads
Iwashi
Double jointed body is perfect for dropshot movement and also reducing the size of the lure when required from the head. A match winner.
colours
all the variants should be available in pink. glowing glitter. white and phantom and chartruese
New for 2015 Nereis
Compact body and fibre legs amazing fish have been caught on first trials . Its ultra thin tail means it takes very little to get a lot of movement
Save this product for later