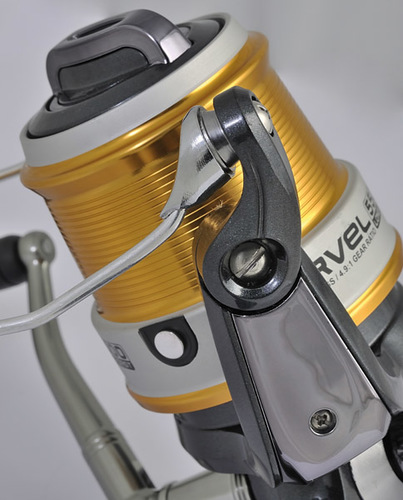 Marvel long cast 5500 LC reel
SKU 00208
Product Details
It happens quite often the anglers must adapt to the reels offered the market. This happens because not always the producers hears
properly the requests and the needs coming form their customers.
We tried to hear to them and we think to have given an answer
to all the people asking for a reel suitable for heavy feeder
fishing and for salt water fishing from the coast, even with heavy
maggot feeders. The Marvel LC is a compact body reel, it is 5500
sized, featuring a large long cast conical aluminium forged spool.
The gears, as the 6 Long Life Ball bearings and the one way clutch,
are salt water protected. We strongly wanted this protection because
otherwise we would have left unsatisfied so many of our customers. The
we wanted a perfect line lay, that's why we opted for a Worm Gear low
oscillation spooling. Thanks to this solution whatever line, even the smaller
diameter, can be used and not mistreated. Finally the smooth drag is
made with stainless steel and Teflon washers. The Marvel LC comes with
a spare graphite spool and an aluminium handle
033-86-550 5500 550 4.9:1 (93cm) Ø 0.21mm – 270m 1 6+1
Save this product for later