Ocean vib popping and vertical jig. 220g 8 ft
00280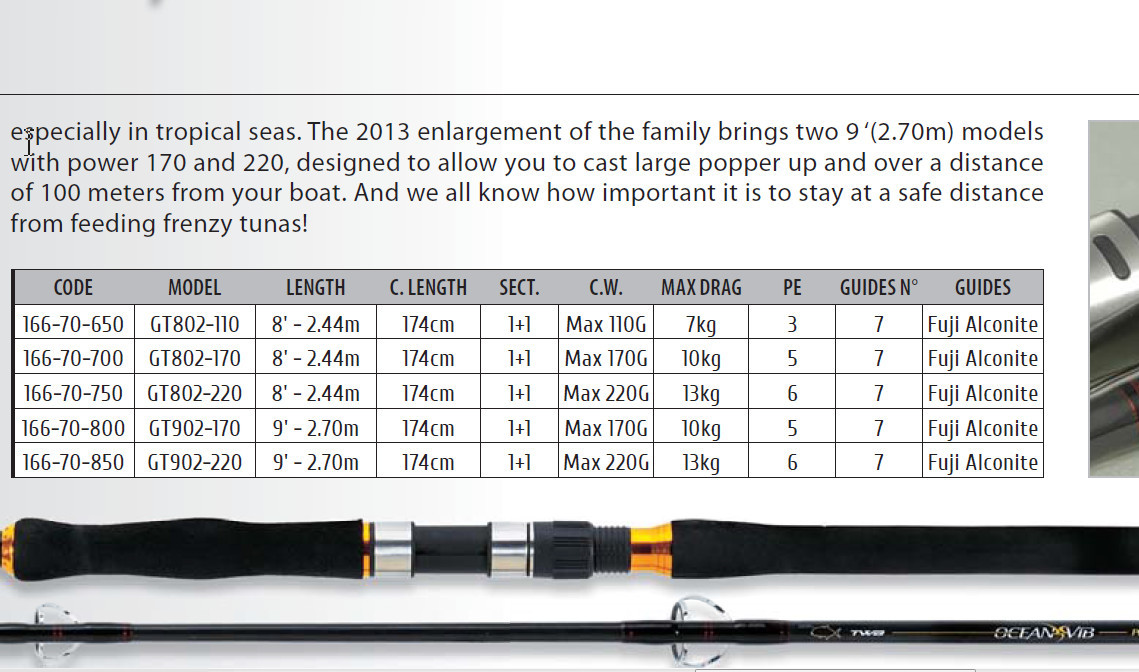 ocean vib popping VJ 170 and 200g
Rapture is always ready to follow new fishing trends, offering a series of heavy spinning rods
devoted not only to tropical heavy popping, as it can be easily got by printing of the Giant
Trevally on the blank, but suitable for Mediterranean boat fishing too, fishing for schooling
Bluefin Tuna. There are 3 models in the range, starting from the "light" model, with mediumprogressive
action able to cast lures up to 110 gr, so ideal for pencil poppers and tapered
stick baits. Then we have the intermediate model, 170g casting power more suitable for
larger poppers and wtd stick baits, and finally most powerful one, the Extra Heavy action,
for lures up to 220g, which is specifically designed for " Big Cup Head " poppers that require
a rod that is not only able to cast them but also to retrieve them. Powerful but relatively easy
to cast with due to the length of 8 '( 2.44 m) and 9' (2.70 m) all models are able to manage
perfectly the lure during retrieve, even at long distance. The CX-Nano Carbon blank is able
to react promptly to the large predator bites, even with a reel drag set to 10 kilos. 1+1 rods,
with Duplon and EVA handle for better grip, Fuji Reel seat and Fuji Alconite guides, equipped
with underwrapping. An aluminium gimbal has been added too, for extra tough fights,especially in tropical seas. The 2013 enlargement of the family brings two 9 '(2.70m) models
with power 170 and 220, designed to allow you to cast large popper up and over a distance
of 100 meters from your boat. And we all know how important it is to stay at a safe distance
from feeding frenzy tunas!
type
s802/220g (10) s702 220g (0)