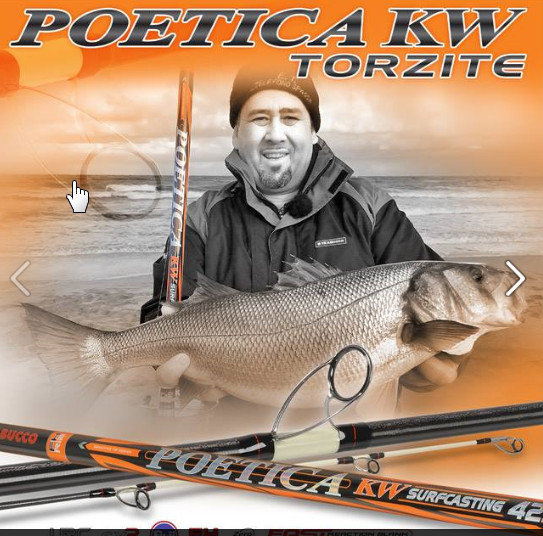 Poetica KW Torzite 420 250g KW last one left at low cost
SKU 00604
Product Details
POETICA KW TORZITE
Emiliano Tenerelli
K-Torzite
Titanium
SURFCASTING 2 & 3 SECTIONS SURFCASTING 2 & 3 SECTIONS
Great dedication and countless working hours made the
Trabucco brand a landmark in the surf casting universe, not
only in Europe but in the whole world, where top anglers of
the most prestigious national teams, such as UK and Ireland,
decided to use Trabucco rods for the most important competitions.
To stop now it will be crazy, because the world is going
ahead and the surf casting of nowadays is already light-years
far from the surf casting of just 5 years ago. That's why we built
a team of experienced competition anglers, to help the brand
to switch to the next level and create a new generation of surf
casting rods. The results of this co operation is under your eyes
and we are really proud of it, because we know that now more
than ever before we are ahead of anyone else, on the highest
step of the podium.
During the past season, it has been dominating the discussions within elite surf
casting clubs, and comments have gone beyond the expectations of those who
had the insight and courage to move forward the target for the entire industry.
Today everybody knows what the Poetica KW is, they appreciate its total reliability
and recognize the merit of having boosted not only the Trabucco image, but also
the performance and satisfaction of the best European surfcasters. First of all,
the blank is made from super high modulus CX-2 Nano Tek carbon with low resin
content, far lighter but better performing than any other carbon. Then we finely tuned
a special tip where the bending curve is distributed to have a softer final part,
made of glass, and a stiffer lower part made of carbon. The name for this special
tip is FH-Rip Tip. Such a tip is really pushing during the cast, but it is quite sensitive
when fishing, even with rough sea. Poetica KW is not a rod for everybody, it
is a tool for demanding people that need a super rod able to cast as no other one,
a true competition rod, competing with other anglers, competing with fish very far
from the shore, competing with the strength of the sea. The Poetica KW is equipped
with best guides ever made: the brand new super high tech Fuji Torzite with
Titanium K design frame, able to prevent any dangerous line tangle. The Poetica
is the first surf casting rod featuring such guides! The inner diameter of the Torzite
is 15% bigger than any other guides having same outer diameter, consequently
they help casting even more. The reel seat is a Fuji DNPS Gold Label. Top rod ever
Save this product for later