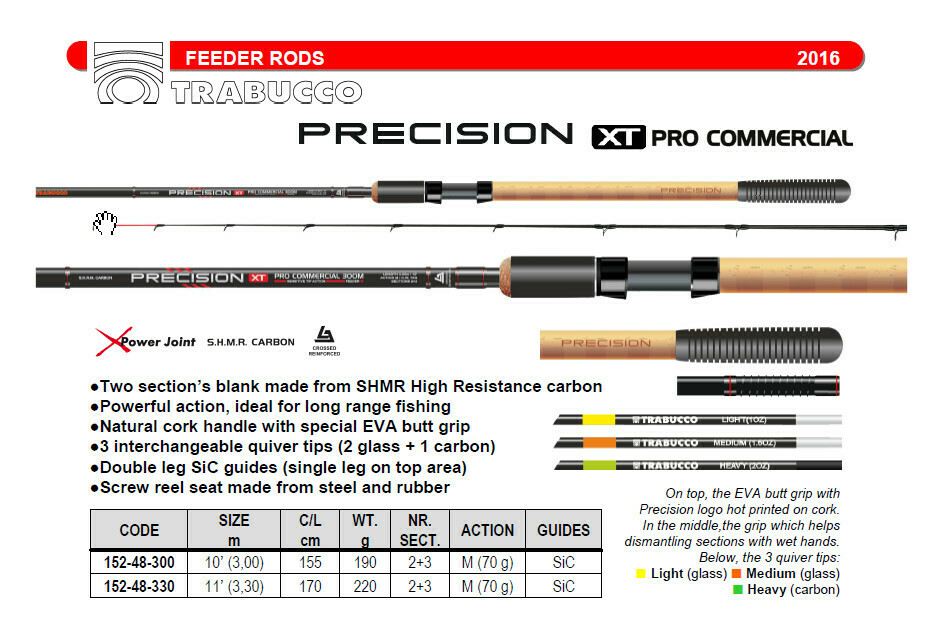 Precision commercial Feeder , 2 piece high quality feeder rods 75g .
SKU 00710
Product Details
TRABUCCO PRECISION FEEDER RODS NEW 2015
If we consider fishing like a science branch, feeder fishing is
one of the most relevant. All over Europe this is one of the
most popular techniques, maybe because with this technique
you can fish everywhere, where other techniques are
failing or it is impossible to fish. So the passionate feeder
anglers are countless and requiring always more advanced,
specific and performing rods. No other brand is offering a
so high number of specific rods, equipped with the higher
grade components. Trabucco worked really hard to develop
such products and we are proud of our products. Check
Trabucco feeder ords in the shops and you will understand
what we mean.
preicision pro commercial feeder 300m 75 g 10ft full parabolic action
This series is made of progressive action blanks still having a very good power reserve in the butt section. Very sensitive
but powerful and reliable: these three qualities make these rods very good for medium-heavy feeders for fishing in big
lakes, rivers, fast flowing canals and even salt water, where they are commonly used in the Mediterranean to fish the
distrustful gilt-head bream. Such rods cannot be built if not using the
best materials such as the Super High Modulus Radial Carbon. They are
equipped with SiC guides and natural cork and EVA handle.
RABUCCO PRECISION RPL FEEDER RODS NEW 2019
COMMERCIAL XT PRECISION PRO 3.0m XT
Features
It gets the name directly from the famous English fisheries, known as "commercial" because fishing is subject to a fee, just like in Italy. In those waters there are big carp, but some lakes are even populated by silver fish only: Bream, Roach, Carassios.
That's the reason why we have developed a series like Precison XT, which must be able to deal with thousands of situations in the long range fishing, including the fight with a bonus big fish.
The configuration with two equal length sections, with the lightweight guides on the upper part, ensures curve perfection, balance and high resistance.
Two interchangeable quiver tips are supplied: one fiberglass (Light, ) and one carbon (Heavy). Classic Precision handle, made of natural cork and comfortable EVA grips.
Save this product for later