Slasher CX-1 fast action hard bait lure rods
00200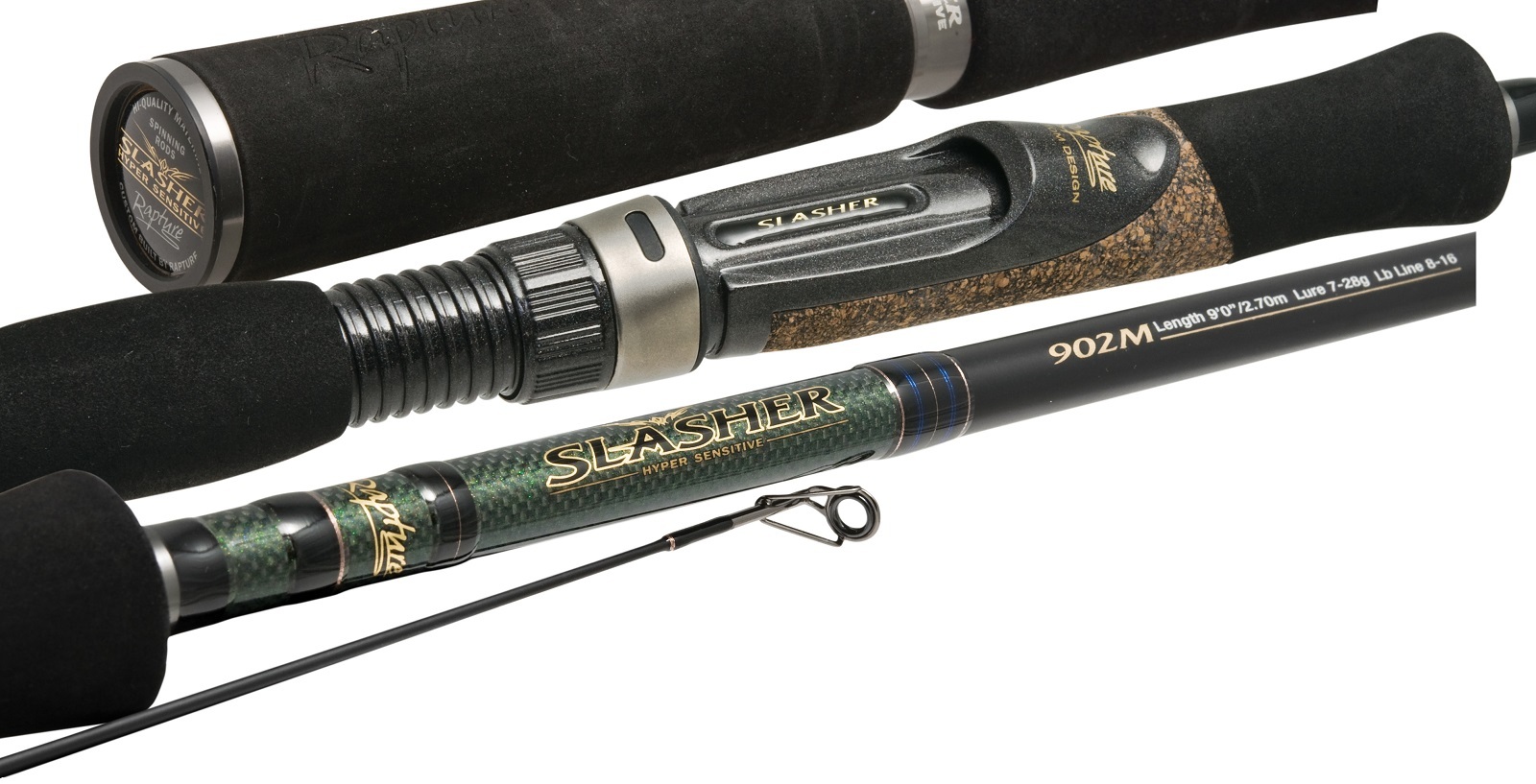 Rapture Slasher long casting spinning rods from Trabucco
New 2013
a series of sophisticated spinning rods from 14g to 35g casting weight
Slasher, as the name itself says, a rod specially designed for long casting.
The progressive and powerful action increases casting distance and if you compare Slasher to other similar rods,
there is no doubt about its long casting skills.
During line retrieve and in the final moment of a fight it will give you that extra power you need to win the battle, changing its action from progressive to tip.
You will love the accuracy and the strength this rod delivers during tough
fights!
The Slasher is made of super high modulus CX-1 carbon finished with differentiated stratifications by element, in order to obtain that difficult alchemy that is a fast tip action rod still able to easily cast at great distance.
SiC guides, salt water resistant, are carefully arranged on the blank to minimize friction during casting.
Blank is finished with a beautiful highly detailed high-density EVA and Rubber Cork handle with anodized aluminium inserts
Specs available in the series
125-31-210 7'0"-2.10 108 2 L 3 - 14 4-10 7 SiC
125-31-215 7'0"-2.10 108 2 ML 4 - 21 6-14 7 SiC
125-31-240 8'0"-2.40 123 2 L 3 -14 4-10 8 SiC
125-31-243 8'0"-2.40 123 2 ML 4 - 21 6-14 8 SiC
125-31-245 8'0"-2.40 123 2 M 7 - 28 8-16 8 SiC
125-31-270 9'0"-2.70 139 2 M 7 - 28 8-16 9 SiC
125-31-275 9'0"-2.70 139 2 MH 10 - 35 8-20 9 SiC
More information and photographs available in the rapture catalogue available from the Trabucco UK and Italian website page 12
type available ex stock
802ML 125-31-243 8'0"-2.40 123 2 ML 4 - 21g (0) 902MH 125-31-275 9'0"-2.70 139 2 MH 10 - 35g (5)