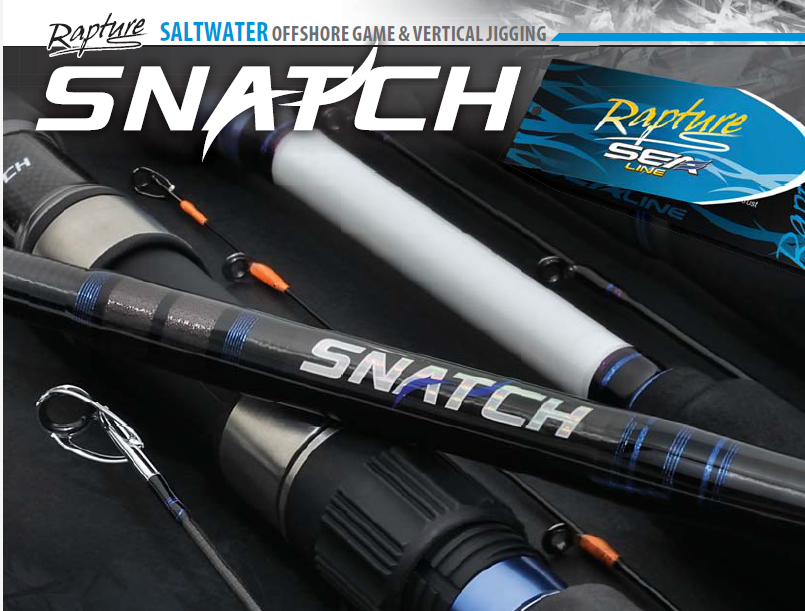 Snatch Tenya Medai 80g boat rods with sensitive solid fibreglass tip great for light tackle plaice and black bream
SKU 00402
Product Details
An highly special
catching Japanese technique which has never failed to positively amaze all people that
tried it.
The tip is made from solid fiberglass, equipped with micro guides, and allows not
only a perfect management of the bait
but also a sensitivity unlike any other
Perfect for light boat fishing for plaice and black bream
Snatch rods
The snatch models have been independently
and accurately designed for the use in specific
boat fishing techniques. For each project we
involved numerous field testers in order to get the
best blank for each specific technique, employing
the best materials and using them wisely. All the
blanks are made of High Modulus CX-1 Carbon in
order to obtain lightness but also power, both the
characteristics necessary for a pleasant and prolonged
use over time. The handles have been made of
high density EVA for maximum comfort, which in
some cases has been shaped in an innovative way
in order to guarantee the best ergonomics possible.
All guides are SiC Sea Guide, the ideal choice for the
use of braided lines, as those are exactly the ones
that will be more used in combination with these
rods. Guides, where necessary, have been fixed with
under wrappings to preserve the blank when heavily
loaded. In this way, the guide's foot rests on an
extra wrapping instead on carbon, thus increasing
the global reliability. A winning project for the most
advanced techniques of boat fishing
Save this product for later