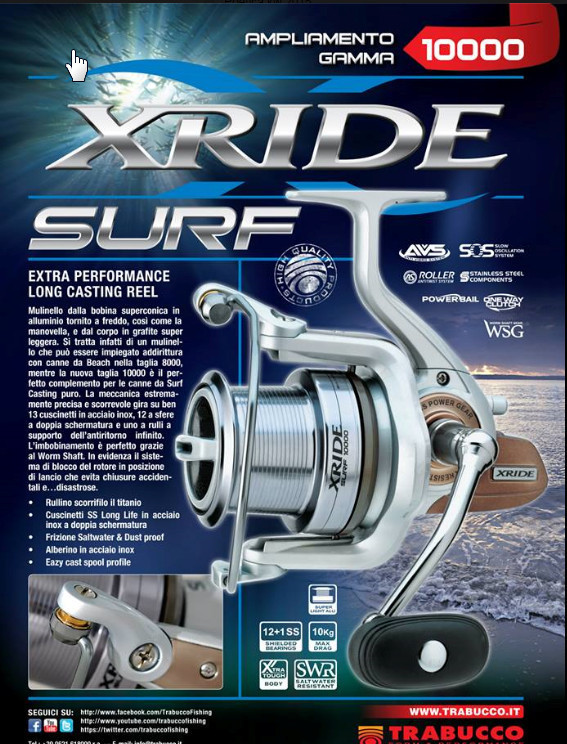 Trabucco X RIDE Surf beach casting reel with long tapered spool 8000 and 5500 size left only
SKU 00003
Product Details
X RIDE
8000 and 5500
In the techniques of light surf fishing or beach ledgering it is often common to use light weight continental style rods
. This does not mean, however, that you should forego any distance.
The problem is that they are really few reels can do their best within these parameters
. We need a reel with a long tapered spool large and the the same time by the very low weight for not compromising balancing of the complex spool
. The X-Ride is probably the best reel that could be used in these cases. size 8000 but very light, only just over 600 grams.
now also x ride beach 5500 size 550g 300m ,25 line
And with a long tapered spool , extremely wide and high, almost 7 inches wide 4 in diameter
All this equates to dramatic distances being acheived with low weight leads such as 50 or 75 grams.
The spool, in anodized aluminum, is mounted on a system in which polymer prevents the wire to slide under that eliminates any problem with thin monofilament.
Even the crank, very wide, is made of aluminum, while the gears are powerful and exploit all the work of bearings 13, of which one roller.
The clutch is sealed to prevent any contact with water or sand. Perfect line lay because of the endless worm shaft. definitely a item which tops of the range and makes the reel world-class.
OTHER FEATURES:
12 +1 SS Bearings Long Life Double shielded
Line roller titanium
Carbon Drag Knob Cover
Clutch Saltwater & Dust Proof
Main Shaft in stainless steel
Eazy Cast Spool Profile
Capacity: 0.32 mm/320mt.
Ratio: 4,6:1 (94cm)
No spare spool purchased separately in Long Cast Spare Spool
Save this product for later