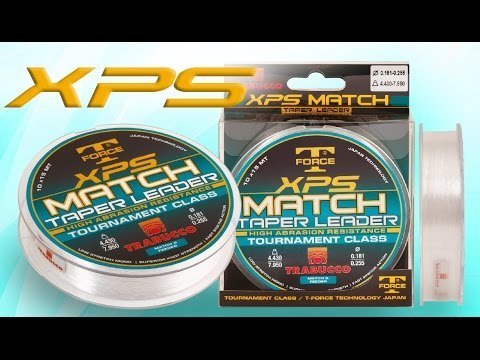 Trabucco XPS Match Tapered Leaders for feeder fishing 10 leaders 15 m long £1.00 per leader !
SKU 00488
Product Details
When major distance is required, there is no match or feeder fishing without the TAPER MATCH leader, which is the best solution in this situation.
Perfect for casting the heavy rigs with bait.
This conical monofilament is transparent and has superior resistance to traction and abrasion of constant diameter.
The spool 10 separate mono tapered leaders leaders each with a small adhesive label.
The mono also takes out the shock from the fighting fish
available from
8lb to 14lb
10lb to 18lb
11lb to 20lb
12lb to 22lb
052-02-010/10 0,165◄0,221 3,60-6,42 7,94-14,16
15mx10pz
052-02-020/10 0,181◄0,255 4,43-7,95 9,76-17,53
052-02-030/10 0,181◄0,283 4,43-9,07 9,76-20,00
052-02-040/10 0,203◄0,327 5,30-10,35 11,68-22,82
Save this product for later