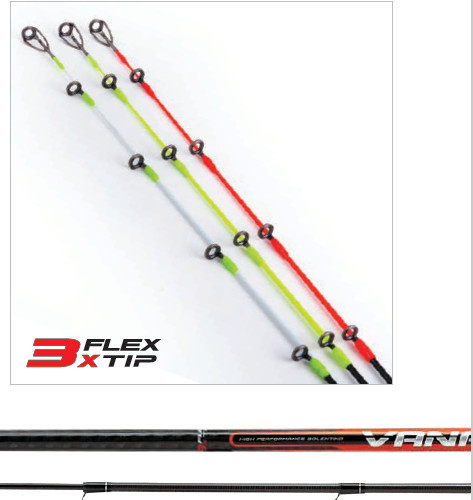 Vanadia Teknic Specialist Sea bait fishing boat rod 240 or 270 3 tips
SKU 00633
Product Details
VANADIA TEKNIC SEA 240/270 250G
A fine, balanced, lightweight tool.
But such grace shouldn't trick you, because the first impact immediately leaves room to the conviction about holding a deadly weapon, with absolute precision and power beyond imagination.
Combine it with a size 6000 Trabucco reel and carry it into the boat: thanks to its structure, made of two equal length sections, it will find room anywhere, and in action it will amaze you with its three interchangeable fiberglass tips.
With the ergonomic reel seat and EVA handle,suitable for medium Multipliers the control is complete; the line flows gently in the endless series of small double-leg guides, with SiC ring.
A rod that gives the best of itself in the coastal and medium heavy bolentino on Dogs, Rays Tope and lighter fish such as Bream and Cod.
, but it is an unbeatable ally even when targeting Snappers and Groupers on the high seas.
A gem that allows you to deal both with relatively thin hooklinks and worms (for this use we will choose the "light" tip
among the 3 supplied), or using squid or Mackerel with stronger lines (in this case we have the "medium" and
"heavy" tips).
Save this product for later