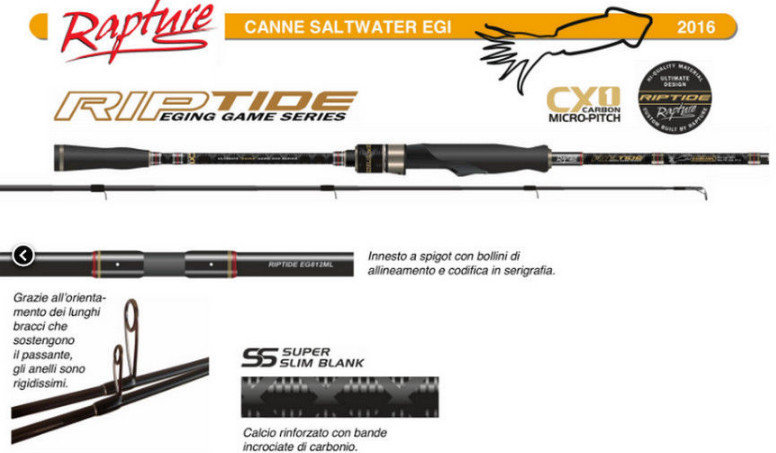 ​RAPTURE RIPTIDE EGING MICRO PITCH 2562 ML
SKU 00492
Product Details
RAPTURE RIPTIDE EGING MICRO PITCH 2562 ML
The squid fishing with crayfish imitations is a sport developed in worldwide.
In Japan baits are called Egi, so the technique is christened Eging. And thats what the way with the excellent Rip Tide rods: quick to throw with ease and sensitivity to the horizon to better manage the baits and reach the lairs of cuttlefish and squid.
Since the fishing line is almost always made of PE, the multifibre devoid of elasticity, is the rod flexes to absorb their fight , which is almost always energetic; here comes the high modulus carbon structure CX-1 Micro-Pitch, whose reactivity can be programmed centimeter by centimeter.
And it is in football that lies considerable power, to address well the adverse wind conditions, not so rare in the cold months when the Cephalopods are close to shore.
Starting from the lower end, up to a portion upstream of the reel, the handle is reinforced with crossed carbon bands, just to rake in power and return it in the projection of the jig at a great distance.
The grip is sdop- piata EVA, with a conical butt for perfect control and a superior grip that incorporates the Rapture reel seat retractable.
Long shank rings in SiC.
Technical Features: Two Sections grafts with Spigot Length 8.1 "252 cm Overall height 127 cm Action 5-30 grams Regular Fast Line 2-5 lbs (0.2 0.4 PE) Rings type HLSic Structure Carbon CX-1 Micro Pitch reinforced with carbon Braided SS Top Quality Super Slim Blank
REGULAR FAST ACTION MAX EGI 3.5 MAX PE 1.5 10 GUIDES
Save this product for later
This message is only visible to admins:
Problem displaying Facebook posts.